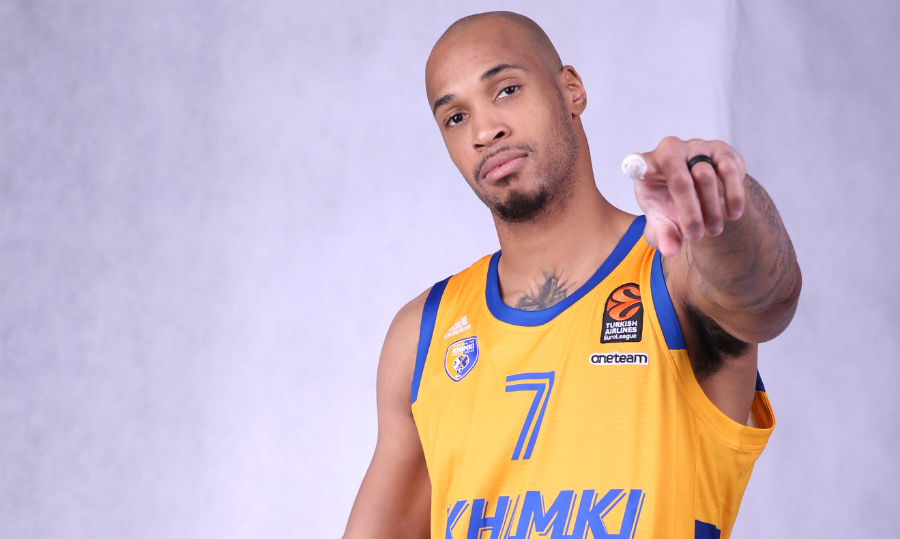 Khimki Moscow Region forward Garlon Green came to Russia on Tuesday, passed medical exam and had time to speak about his career and life in four countries outside USA. "My ultimate goal is to play at the highest level. I just want to continue staying at a high platform", he said to bckhimki.com. Here is his first interview as Khimki player.
You came to Russia after great season in Belgium where you were one of the leaders of your team Belfius Mons-Hainaut. How did you like that league?

"I think it's a good league. I had an opportunity just to compete. The coach, Daniel Goethals or Big Dan, was really great, and this club was good".

You played for the New Orleans Pelicans in the 2018 NBA Summer League and later signed a contract with the Pelicans. How did you like that experience?

"It was amazing experience. Just playing at the highest level was really good as my ultimate goal is to play at the highest level, regardless it is NBA or EuroLeague. I just want to continue staying at a high platform".

Khimki coach Georgios Bozikas was at the Pelicans coaching staff. Did you have a contact with him?

"Briefly, not that much. Obviously, he was able to see me a lot during the Summer League and got a chance to scout me well".

What did you do after being waived by Pelicans?

"I just went home to Houston and worked out with Houston Rockets as a practice player for little bit. Just, I was preparing for the next step".

What did you feel when you got an offer from Khimki?

"I was excited. I always wanted to play in the EuroLeague, and actually, in Russia because my brother talked a lot about Russia. I've never been to Moscow, so it was really exciting for me. I knew, Khimki was a really big club. So, just I'm excited".

What are your expectations about playing in the EuroLeague?

"Just compete hard; this is my dream. It's easy just to get out and do what you love".

You brother Gerald played in Russia for two teams. What did he tell you when he knew about this your offer to go to Khimki? Also, he played against Khimki several times. Any advice from him?

"He just told me, it was really good opportunity for me as Khimki is a good club. He also wished he could play in a good club like Khimki when he was in Europe. But he just told me I've to be prepared overseas. Obviously, I've been overseas for last six years, so I knew some things. My brother and I always get back on forth on".

How did you grow up together and who influenced you about becoming a basketball player?

"My brother. Seeing him really passionate about sports was great, and also my dad played professional baseball. Being a professional athlete because I've been always passionate from him. My brother was passionate about basketball, and I always wanted to play with him, all the time. We love the game".

You a native of Texas and attended Texas Christian University. How did you like that 4 years in NCAA?

"It was really good. It's a learning experience. I was able to go there to my college and get a degree, that's most important for me, to leave with college education. It was good".

You started your pro career in Australia, an unusual place for American. Why this country?

"I didn't really have many people looking at me throughout the college. I didn't have a great college career, so I just wanted to go somewhere, play hard and well, just to start somewhere. Eventually, I just built my way up to the European rank. Actually, I loved Australia, this is one of my favorite places. Living conditions were good, it was really beautiful and nice, always warm weather".

Being one of the leaders in Australian team Canberra Gunners you decided to sign with Japanese club Kumamoto Volters. This is absolutely exotic country. What about their league? How did you like your life in Japan?

"Japan was good. It was more competitive than Australia. So, I wanted to leave Australia and go to a more competitive league. Still, not many people were looking at me, so I needed to take step by step, higher and higher. Japan was a decent competition, a couple of guys from that league played in the NBA, so it was really good for me".

After Japan you moved to Germany for season 2015/2016, where you participated in BBL All-Star Game and won slam dunk contest. How did you like it and did you enjoy your stay in Germany?

"Germany was really good for me as well. Again, I saw throughout my career and realized I needed to take another step higher than Japan and Australia as well. Germany was a really good league, and a really good situation for me to go to Walter Tigers. I just tried to do the best I could, just to compete".

Parted ways with Walter Tigers, you moved to Belgium. Did you like your life in Belgium?

"I really liked Belgium. It was really good family setting, my wife and my son felt really well in Belgium. A lot of families there accepted me and my family as a whole. Belgium was really good to us. We took part in FIBA Cup that was really nice, really competitive tournament. The coaching staff was good in the club; they helped me with my development. It was another step for me just grow as a basketball player".

Did you try to learn French?

"Oh, yep, I did. I learned a little bit. Everywhere I go I try to learn the local language like here, I plan learning Russian but it will take time".

What do you think about Khimki and your new teammates?

"Again, this is a very high-level club. My ultimate goal is to be at this stage, at this point when I'm playing on a EuroLeague team, in a big club. I just do what I love, do my dream, and it feels good".

What do you think about coach Bartzokas and his philosophy?

"I think he is a genius coach. His philosophy is genius. He is an ex-coach of FC Barcelona, and I'm just excited to go and work with him and with all these guys".

What about Alexey Shved? Are excited to play with him?

"He's an amazing player. Actually, I used to follow him when he played in Minnesota. He is amazing scorer, so I just look forward to go on the court with him".

Russia is your fifth country outside USA. What do you expect from living here?

"I expect to learn something new. Everywhere I went I had an opportunity to learn new things, new culture, new environment. So, I just expect to continue to grow and learn for my professional growth".

There are several Americans in the team. Will it be easier for you to adjust here in Russia?

"Oh, yeah, absolutely. Again, I've been in so many different places from many different countries, so I'm not really discerned about being in somewhere new, so we will see".

Are you worried about the fact that in Russia very few people speak Russian well?

"No, because again, I've been in such situations before. For instance, in Japan no one spoke English. People did even know how to say Hello to me, it's not for the first time. Anyway, Google Translator will help a lot, the best friend, absolutely".

What are your first impressions about Khimki game?

"Yes, I watched all the games. It's nice. It's good the team got a win; it's good for the club. Hopefully, we can get on a winning streak and finally see ourselves in the playoffs".

What about your free time?

"My free time… Probably, watching films or something working out as well. Besides that, that's not really free time because of the stuff I do. I stay with my family as I've a son and daughter, so I try to stay with them mostly".
Author: Sergey Khodyachikh