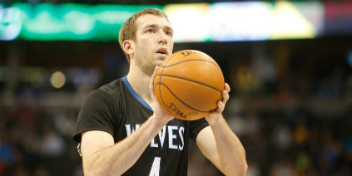 BC Khimki novice Robbie Hummel commented upon signing with our club.

"I'm excited to sign with the team, — Hummel said. — It [BC Khimki] has a great tradition and the team has a lot of talent. It should be a fun year. I expect for the team to have a very good season. It's great to play for one of the best teams in Europe. I'm looking forward to getting over there and getting to work".

Also Robbie said about playing with Alexey Shved in Minnesota Timberwolves.

"Honestly, I don't know much about Russia. I've never been to Russia but have heard good things. I played with Alexey [Shved] in Minnesota, him and I are already friends. He'll have to show me around. Well, for one it's a great opportunity. Alexey being there really helped as I got to talk to him before I signed. I think the team has made some big moves here that will give us the personnel to be very successful. Obviously every player likes to see that".

Answering about his feelings of signing with the club Robbie added that it's a step forward in his career.

"Yes for sure, — Hummel said. — Any time you get to play on a team like this it's a step forward. We certainly have a lot to prove and it will take a lot of hard work, but I'm really excited about what we have".