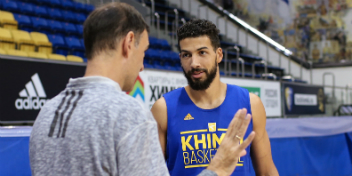 Anthony Gill – on first preseason camp, that was held in Slovenia.

Over the course of two past weeks BC Khimki had intense training sessions in Slovenia. It ended with a first preseason friendly game with Turkish side Anadolu Efes that showed the current strength of our team. The top scorer of the team, Anthony Gill, finished the game with 15 points and 6 rebounds. Now Gill speaks upon his impressions from Slovenian camp, his new teammates and coaching staff.

On preseason camp in Slovenia

"It was fun. It was my first preseason camp in my whole time in Europe as last year I didn't have one. So, it was exciting. There was a lot of hard work but our team needed this. We did a lot of trying to get to know each other and understand each other's games. We ran a lot trying to get into shape and conditioning. We really just focused on our coming together as one group".

On new teammates and coaches

"I love my new teammates; they are great guys. Everyone is funny. I like Russian guys; my favorite guy is Ivan Viktorov, I call him Viktor, Vik. He's cool. Also, our coaching staff is great. They really know the game; they are always trying to teach us, especially young guys. It helps us to understand the EuroLeague better. I'm excited about that".

On preseason games

"That's gonna be fun. I'm looking forward to it. We played with Efes [in Slovenia] and that was exciting. Now we gonna play two other great teams. As for our first game, I think, we just have to come together. It was our first time playing full court basketball and first time playing together as a team. It was just an adjustment period. We have to learn each other and the system we are playing. It just takes time".

On our team

"I think we'll be good. We have good pieces right now and with the addition of three other guys [Shved, Zubkov and Todorovic] we'll have a lot of talent on this team".

From September 4 to 6 our team will have practices in Khimki and then it will fly to Lithuania on preseason games.