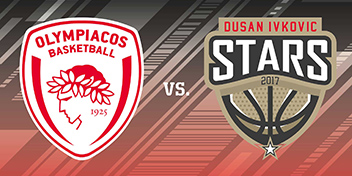 Yesterday BC Khimki guard and Serbian national team ex player Stefan Markovic took part in an exhibition game in Piraeus, Greece, devoted to EuroLeague legend Dusan Ivkovic.

Coach Ivkovic was named Euroleague Basketball Legend and got special trophy from Euroleague Basketball President and CEO mr. Jordi Bertomeu in an emotional pre-game ceremony. He is the first head coach to be chosen for this distinction.

The game between Dusan Ivkovic Stars Team and Olympiacos Team (was played at the Peace and Friendship Stadium, Piraues, Greece) ended in favor of Ivkovic's squad (111-103). Stefan Markovic played under the guidance of legendary coach, as in Serbian national team (from 2008 to 2013).

Markovic said: "It was a great honor to be a part of this game. Mr. Ivkovic is a world basketball legend and I got a privilege to be coached by him".

Thank you, Duda!

Tomorrow Markovic will join BC Khimki in Croatia and will be able to take part in 2017 Zadar Basketball Tournament.