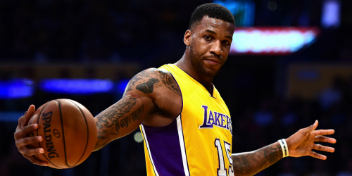 American power forward Thomas Earl Robinson will continue his career in BC Khimki. The contract was signed till the end of 2017/2018 season.


Georgios Bartzokas, BC Khimki head coach:

"We checked the market with our President and GM and decided to make our team better. I'm about one month with the team and I see where we are week and where we are strong. I would like to thank our President and sponsors as Robinson is a very strong add to the team. He is a very good and famous player with big NBA profile. He was number five on draft and he is at good age now. I think he fits a lot to our system. We know the level of the EuroLeague with many games so we need to have quality players".

Thomas Earl Robinson

Birthday – March 17, 1991
Position – power forward.
Height – 208 cm.
Weight – 108 kg.
Nationality — USA

Sports career

Teams played:
2009-2012 – University of Kansas (NCAA, USA),
2012-2013 – Sacramento Kings (NBA, USA),
2013 – Houston Rockets (NBA, USA),
2013-2015 – Portland Trail Blazers (NBA, USA),
2015 – Philadelphia 76ers (NBA, USA),
2015-2016 – Brooklyn Nets (NBA, USA),
2016-2017 – Los Angeles Lakers (NBA, USA),
Since 2017 – BC Khimki

Achievements:
2009 – Fourth-team Parade All-American,
2012 – Consensus first-team All-American, Big 12 Player of the Year, First-team All-Big 12, selected by Sacramento Kings in the first round (# 5 overall) of the 2012 NBA Draft

Robinson played 313 games (12 started) in the NBA (regular season; 11 more games in the play-offs). He averaged 4.9 pts, 4.8 rebounds, 0.6 assists and 0.5 steals in 13.4 mins.