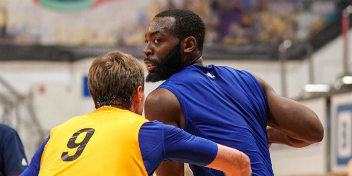 Today early in the morning our team left to Lithuania, where it will play two friendly games with Zalgiris Kaunas (September 8) and Lietuvos Rytas Vilnius (September 10). On September 11 BC Khimki returns home and continues preparations for 2017/2018 season.

BC Khimki schedule in Lithuania:

September 8, 18:30 msk. Kaunas. Zalgiris – BC Khimki (behind closed doors)
September 10, 18:00 msk. Vilnius. Lietuvos Rytas – BC Khimki

BC Khimki roster: Tyler Honeycutt, Stefan Markovic, Ruslan Pateev, Vyacheslav Zaytsev, Egor Vyaltsev, Dmitry Sokolov, Sergey Monya, James Anderson, Charles Jenkins, Malcolm Thomas, Ilya Karpenkov and Sergey Klyuev.

Anthony Gill will join the team later due to family circumstances.

Charles Jenkins commented upon the preseason preparations.

"I like the team. Everything is relatively new; a lot of new personalities, new coaching staff, new office, so we are in the beginning and it will take some time for us to build the chemistry, — Jenkins said. — All the guys work hard; we do a really good job and communicate with one another. I think we have a really good team but for the preseason the most important thing is to get the chemistry together. My first time in Milano was similar to this for a lot of new players. But I think just effect that everyone here been for a long time, I mean a lot of chemistry between Russian players, and also with a few guys like Tyler [Honeycutt] and Stefan [Markovic] played in the VTB League and have this experience. With the new guys have a lot easier as far as coming and trying to find the rhythm as fast as possible. We will be ready to play".

Also Jenkins revealed his expectations from the upcoming season.

"I have big expectations, especially in the EuroLeague, where every game matters, every basket matters. From my experience the best thing I like to do is take every game one at a time and try to go from each victory or defeat", — Jenkins added.

Upon returning from Lithuania (September 11) BC Khimki will have two training sessions at home and then goes to Italy for a friendly game with AX Armani Exchange (September 13).